Meer oor Komatipoort en omgewing
Komatipoort is 'n klein stil dorpie en is 8 kilometer van die Krokodilbrughek - ingang na die Krugerwildtuin. Komatipoort is ook slegs 5 kilometer vanaf die Suid-Afrika- en Mosambiekse grenspos, die Lebombo grenspos. Swaziland is 'n verdere 65 km vanaf Komatipoort.
Dit is by Komatipoort dat die Komati-en Krokodil rivier saamvloei voor dit deur die "poort" van Komatipoort deurvloei na Mosambiek.
Dit is hier waar die Nkomativerdrag in 1984 tussen Suid-Afrika , gelei deur die destydse eerste minister Mnr PW Botha en Mosambiek, gelei deur voormalige President Samora Machel, onderteken is. Samora Machel is ook destyds in 1986 naby Komatipoort dood in 'n vliegongeluk.
In die vroeër geskiedenis was Komatipoort baie belangrik vir Suid-Afrika of die Zuid Afrikaanse Republiek (ZAR) van destyds aangesien dit 'n belangrike roete was na en van Lourenzo Marques (LM) vandag Maputo. Die Krugerwildtuin is propvol geskiedenis en legendes soos Joao Albasini en natuurlik Jock of the Bushveld - Sir James Percy Fitzpatrick. Tydens die Anglo Boereoorlog was Komatipoort nog belangriker (11 Oktober 1899 – 31 Mei 1902) aangesien die boererepublieke van die Transvaal en Vrystaat hul wapens vanaf Lourenzo Marques (LM) via Komatipoort gekry het. Dit was tydens hierdie periode dat die berugte eenheid van die Britse weermag, Steinaecker's Horse gestig was en doenig was in Komatipoort.
Die mees gewildste doending is natuurlik om die Krugerwildtuin te besoek. U kan selfry maar as u lus is om usself te bederf kan u saam met Saseke Safaris , deel van die Tambarina Hospitality groep in Komatipoort 'n vol dag of half dag begeleide wildsrit doen.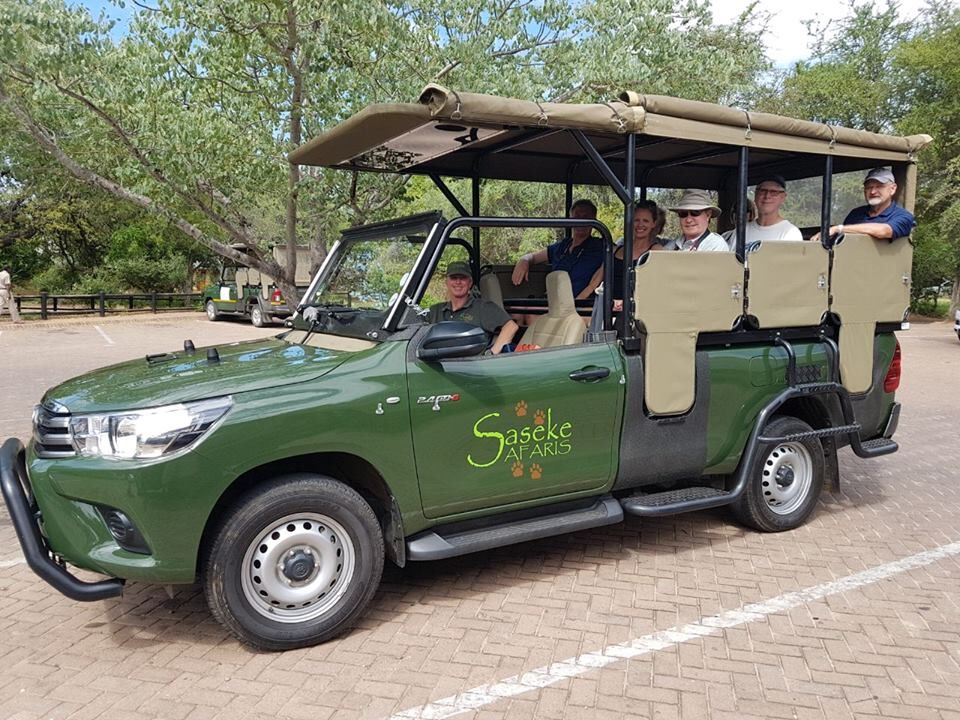 Vandag word die afkorting LM vir baie vereenselwig met LM Garnale. In Komatipoort sal ek die Tambarina Restaurant baie sterk aanbeveel vir LM Garnale en Portugese kos.
Komatipoort is ook vandag bekend vir sy baie gewilde 9 putjie Kambaku Golfbaan wat gereken word as een van Suid-Afrika se top 10 9 putjie bane.

Klik op prentjie bo om Kambaku Golfklub se webwerf te besoek.
Kambaku , waarna die gholfbaan vernoem is, was een van die Manjifieke 7 Olifantbulle van die Krugerwildtuin. Lees op Sanparke se webwerf meer oor Kambaku en die ander Olifante wat bekend was as die Manjifieke 7. https://www.sanparks.org/parks/kruger/elephants/tuskers/magnificent7.php
Die Spar in Komatipoort is die moeite werd om te besoek vir jou kruideniersware tydens jou Krugerwildtuinvakansie.